Girls Looking Cute Girls Fashion Boutique Product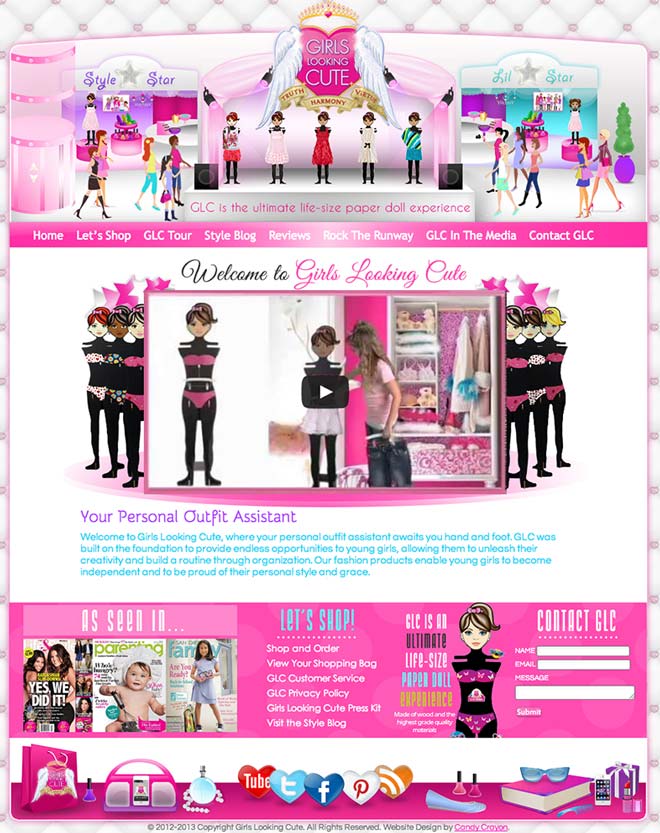 Project Description
When Dawn, the founder of GLC contacted us, we were so impressed with her invention and excited to work with her. Girls Looking Cute is a fashion product which allows tween girls to customize a life size wooden mannequin to look like them and has perfectly placed wire hooks for hanging their clothes onto so they can choose their outfits for the next day.
Dawn originally had a simple website that wasn't girly enough and didn't appeal to her audience so we worked with her to come up with two different boutique designs -one for the homepage and regular pages and one for the boutique store pages. We continue to work with Dawn on her expanding line and have also designed bikini patterns for the tween and new line of mannequins for the preschool boys and girls.
Be sure to visit GLC's page and keep up with exciting news and promos on Facebook. This unique boys and girls fashion boutique product makes a wonderful gift for any young child.
Client: Dawn Farver
Website:http://girlslookingcute.com/
Store page with second boutique: http://girlslookingcute.com/store/
Linesheet: http://girlslookingcute.com/linesheet
Facebook: Facebook.com/girlslookingcute
Pinterest: Pinterest.com/grlslookingcute/
Services Provided
Candy Crayon Box Package
Two boutique web designs, for normal and store pages.
Flipbook for product linesheet
Custom pattern designs for bikinis and preschool girl/boys undergarments
Gift Card design for all three product lines
Facebook Social Media Posts
Pinterest Services